Leeks and onions can either make your mouth water or bring tears to your eyes. And as Long Beach Organic garden director Joe Corso and chef Amanda Aiton demonstrated during their quarterly LBO Cooks demo at the Zaferia Community Garden, they are versatile.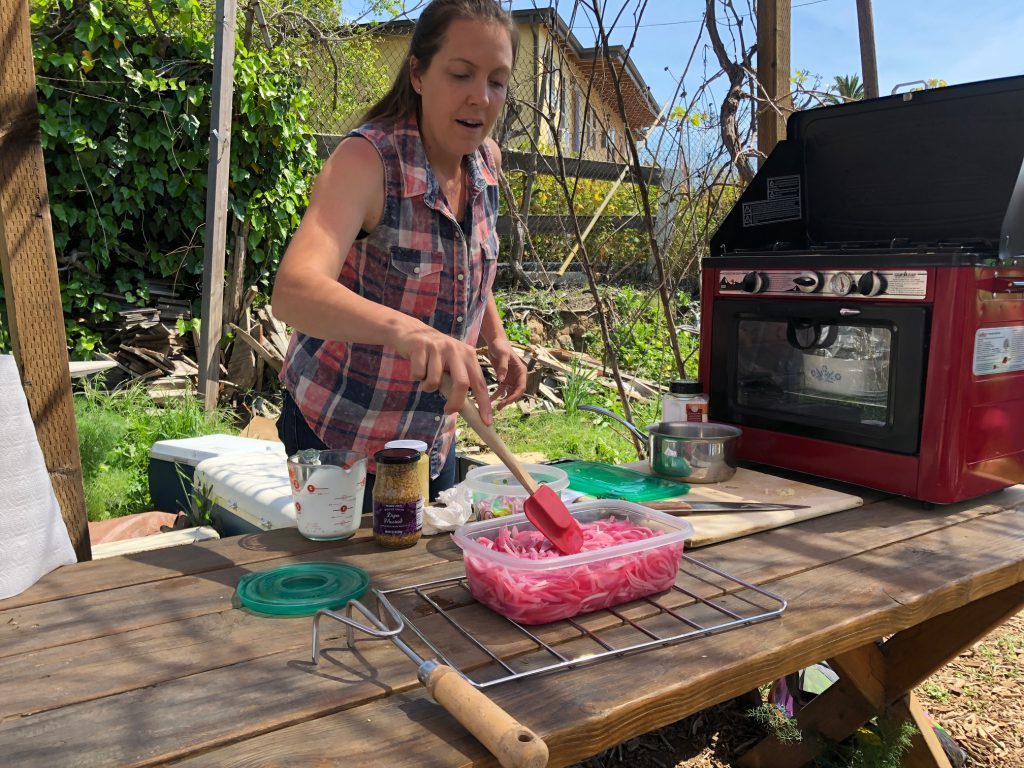 Amanda Aiton making pickled onions.Corso and Aiton presented five recipes for leeks and onions: French Onion Soup from Julia Child's "Mastering the Art of French Cooking"; the classic Braised Leeks Vinaigrette inspired by Bon Appetit; Leek Tart from Alice Waters' "Chez Panisse Vegetables"; Porri Al Porno (Leeks Baked in Cream), adapted from Saveur; and Pickled Onions, adapted from Bon Appetit.
Leeks and onions are both members of the allium family, which also includes garlic, shallots, scallions, and chives. "They're all a little different. Leeks are probably the easiest to grow," said master gardener Ken Yliniemi.
Milder-tasting and drier than onions, leeks don't give off the sulfurous fumes that make chopping onions an eye-watering ordeal. Also unlike onions, leeks don't form bulbs. Yliniemi noted that most onions are "long-day onions," which require 16 hours of daylight to form bulbs. In order to grow onions that form bulbs, gardeners in California—where summer days are 14 hours maximum—must plant "short-day onions."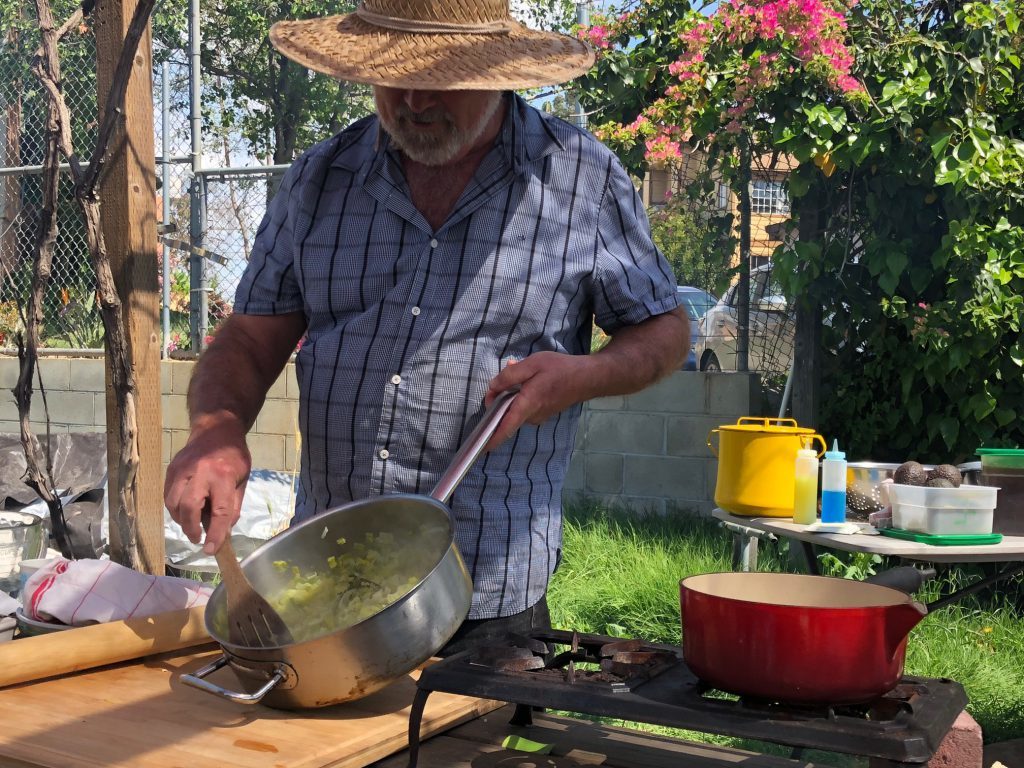 Joe Corso preparing leeks baked in cream.Leeks and onions are the prime ingredients of many French dishes. The classic French onion soup, often topped with toasted bread and a gruyere cheese, is made in several steps. First, slowly cook 6 cups of thinly sliced onions in butter until they are tender. Next, add sugar and salt and cook until the onions are carmelized. Then blend in flour, stock, and wine. Just before serving, stir in the cognac, and garnish with the bread and cheese.
The leek tart calls for 3 pounds of leeks seasoned with thyme, salt, and pepper. Once the leeks are cooked, spread them on rolled-out pastry, and bake at 400 degrees on the lowest shelf of the oven until the crust is browned.
"A lot of people are afraid of leeks because they're weird looking," said Corso. "And people don't know what to do with them."
The biggest challenge of cooking leeks is cleaning them, since dirt tends to collect between the layers while they're growing. To clean them, Corso suggests cutting off the top and bottom, then cutting them in half and pulling apart the layers and rinsing them under running water.
"If a few pieces of grit remain, you know it's organic," he joked.
Braised Leeks Vinaigrette are another classic French dish, often referred to as "the asparagus of the poor." Line up 4 sliced leeks in a baking dish and drizzle with water. Cover the baking dish with parchment paper and foil and cook at 350 degrees until tender. When cold, add the vinaigrette, composed of shallots, garlic, sherry vinegar, Dijon and whole-grain mustard, thyme, olive oil, and salt and pepper.
For the Leeks Baked in Cream, toss together leeks with two cups of heavy cream, grated parmesan cheese, and salt and pepper then cover with foil and bake. After one hour, remove the foil and let brown for 20 more minutes.
To make the pickled onions, pour a solution of vinegar, hot water, garlic, sugar, and salt over chopped onions and let them sit overnight. They can be used on sandwiches or in salads, or just eaten as a snack. "They're just a little go-to to jazz up anything you're serving," said Aiton.
The cooking classes are open to all LBO members and their guests, although donations are appreciated. Minimum LBO membership is $25 per year, and can be paid at the event. Participants get a taste of each dish and the printed recipes: LBO COOKS-Leek and Onion Recipes
- Margo McCall