Kale. We know it's good for us. It's low in calories, high in fiber, and has zero fat. It's an important source of vitamins A, C, and K, as well as magnesium and other nutrients. And it's also very easy to grow.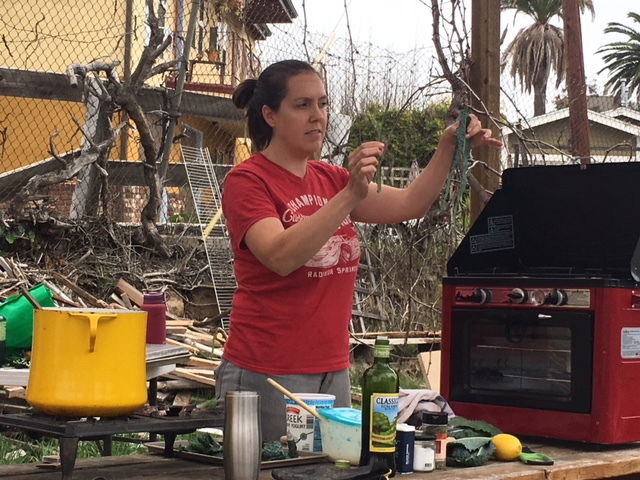 Amanda Aiton prepares kale soup.But what can you do with it if you don't want a kale smoothie?
At Long Beach Organic's cooking demonstration at Zaferia Junction Community Garden on Saturday, garden director Joe Corso and chef Amanda Aiton presented some options: Tuscan Kale and White Bean Soup with Sausage; Kale and Mushroom Empanadas; Kale Salad with Pine Nuts, Currants, and Parmesan; and Kale Chips with Lemon Yogurt Dip.
"When I first joined the garden, I had no idea what kale was. But I've learned to work with it," said LBO President Dan Rodriguez in introducing the cooking demonstration.
Corso was one step ahead of Rodriguez. When he joined the garden, he knew what kale was, but didn't know what to do with it. "People say, 'Put it in a smoothie,' but I didn't want to ruin a good smoothie," said Corso.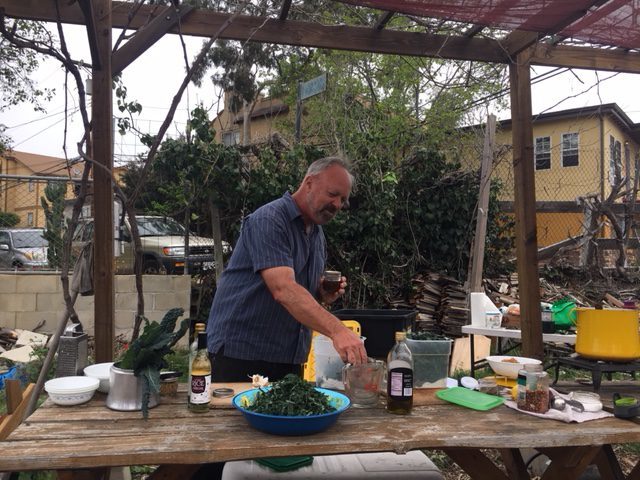 Joe Corso prepares kale saladThe recipes chosen for the cooking demo didn't "bury the kale," but instead highlighted its earthy richness.
"Kale chips are probably the easiest go-to-thing to do with kale if you don't want to make a smoothie," said Aiton, who works as a chef instructor at Cerritos College.
Any kind of kale will work for chips, from dinosaur to Tuscan. Simply coat the leaves with olive oil, garlic, and salt and pepper, and spread the leaves on a baking sheet. Like any other kind of chip, it benefits from a saucy dip.
A few tips:
Take out the tough fibrous stem beforehand
Don't overcook it; kale burns easily
Don't pile too much kale on your baking sheet or the kale will get soggy
Rotate the baking sheet every few minutes to even out the baking
Corso replicated the chopped kale salad that's become a crowd-pleasing favorite at the annual LBO fundraiser. Although some massage the kale leaves to soften them so they'll absorb dressing, Corso prefers to let the kale marinate in the dressing and naturally wilt and absorb the flav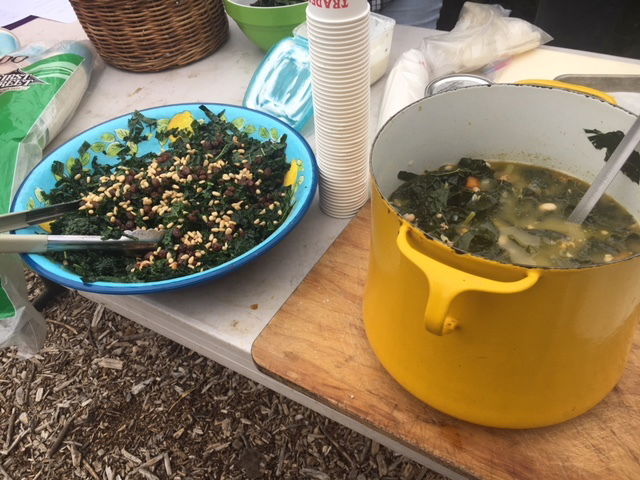 Soup and salad ready for samplingors.
He also prepared a hearty kale and white bean soup that works well as a one-dish meal. The aroma of the garlic-heavy soup simmering attracted passersby from the neighborhood.
Aiton demonstrated how to make mushroom and kale empanadas. The filling can also be spread on toasted bread, used in puff pastry, or made into calzones. "There are lots of variations to the filling," she said.
The pie dough recipe she used is also very versatile. It can be spruced up with a little rosemary, thyme, or other herb. Aiton kneaded the dough by hand. "I like to feel it and know what's happening," she said.
Unlike bread dough, pie dough can become tough from over-kneading. If the dough is made well, with the proper amount of liquid and flour, you won't be left with a lot of sticky dough on your hands. The dough can be chilled, covered, in the refrigerator, or frozen, until you're ready to use it.
For the filling, Aiton recommended blanching the kale beforehand. "You want to make sure it's really broken down and tender," she said.
The cooking classes are open to all LBO members and their guests, although donations are appreciated. Minimum LBO membership is $25 per year, and can be paid at the event. Participants get a taste of each dish and the printed recipes: LBO-COOKS-Kale-Recipes.pdf.
- Margo McCall