Carrots are nutritious, delicious, and easy to grow. And as chefs Joe Corso and Aliye Aydin demonstrated at the recent LBO Cooks at the Zaferia Junction Community Garden, they're also extremely versatile.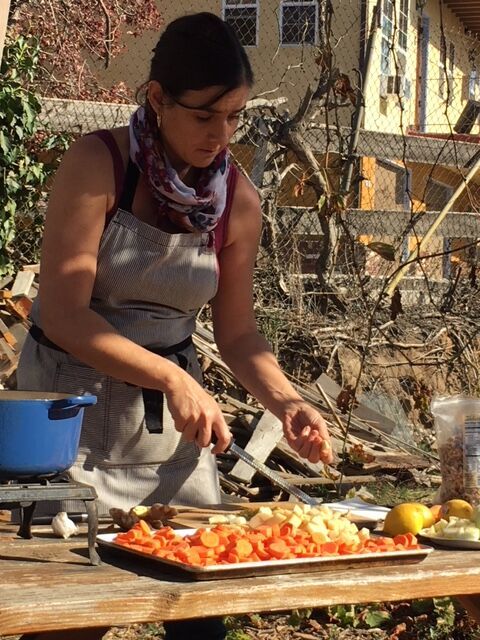 The four recipes that Corso and Aydin prepared showed that carrots can be consumed raw, roasted, in soup, and even as a dessert pudding.
Known for their sweetness, and loaded with beta carotene, each carrot contains only 25 calories. And no matter how they're prepared, they'll deliver healthy doses of vitamins A, C, K, and B8, as well as pantothenic acid, folate, potassium, iron, copper, and manganese.
Carrots are also associated with reduced cholesterol, enhanced cardiovascular health, and a stronger immune system.
Corso, the LBO Garden Director, and Aydin, who offers cooking classes and operates the website A Good Carrot, prepared Carrot Pudding from Simple French Food by Richard Olney, Thai Carrot Slaw from goodfood.com, Maple Dijon Roasted Carrots from paleomg.com, and Carrot-Curry Apple Soup with Baked Maple Walnuts from Aydin's website.
Beginning with 2 pounds of grated carrots, the pudding features butter, eggs, heavy cream, lemon juice, and salt, pepper, and a touch of sugar. The lemon juice, said Corso, keeps the carrots "from turning to mush." And the sugar brings out the carrots' natural sweetness.
The pudding, Corso said, is "flavor concentrated and melt-in-your-mouth tender."
The soup contains 4 pounds of carrots, in addition to two potatoes, an onion, and a large apple. Garlic, ginger, curry powder, salt and pepper, and lemon juice round out the seasonings, and walnuts baked with maple syrup provide a sweet garnish.
"It's a really nice cold season or warm season soup. And it's really simple," said Aydin.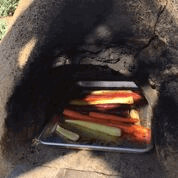 Also using maple syrup are the glazed carrots, which are seasoned with Dijon mustard, sea salt, chives, and red pepper flakes. The recipe calls for rainbow carrots in purple, yellow, white, and orange.
"Carrots weren't always all orange," said Corso. "The rainbow carrots make a really beautiful presentation with all the colors."
The cooking classes are open to all LBO members and their guests, although donations are appreciated. Minimum LBO membership is $25 per year, and can be paid at the event. Participants get a taste of each dish and the printed recipes. LBO-COOKS-Carrot-Recipes.pdf