Brussels sprouts have undergone a transformation in recent years from mushy holiday staple to gastropub delight. To commemorate the cruciferous vegetable's position as "the new kale," and just in time for Thanksgiving, Long Beach Organic presented six recipes using brussels sprouts at its quarterly cooking demonstration.
"I'm old enough to remember when they were used as a punch line as the worst thing that can be served," said garden director Joe Corso. "Now they're gourmet. It's the new kale. It's every restaurant's specialty."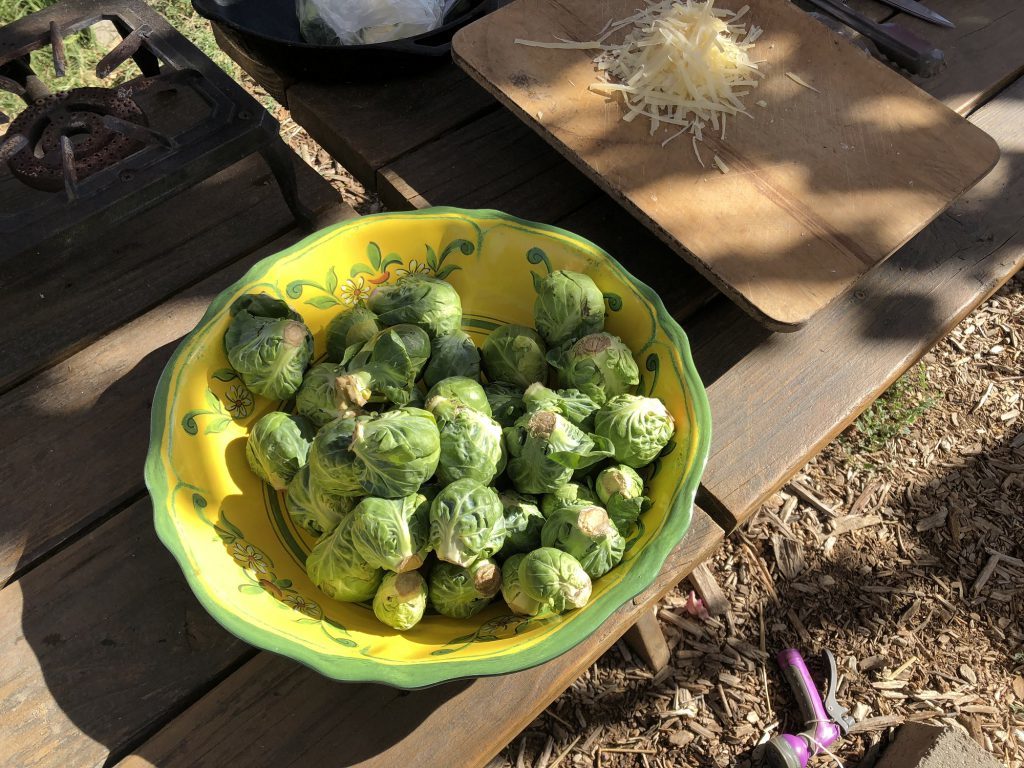 Corso began with Brussels Sprouts in Brown Butter, from Julia Child's The Way to Cook. The mini cabbages are first trimmed and pierced with a 3/8-inch cross in the stem end, blanched in boiling water for 5-10 minutes, then plunged in a bowl of ice water. "Shocking" in ice water stops the cooking process and preserves their bright green color. When they're ready to serve, sauté them in butter then top them with lemon zest and minced chives.
Master gardener Ken Yliniemi showed off how to prepare Brussels Sprouts with Bacon and Balsamic Vinegar. After cooking the Brussels sprouts and bacon in an iron skillet until they begin to brown, season them with salt and pepper and a ½ cup of balsamic vinegar. The dish can also be topped with cheese and browned in a hot oven.
In an Asian-influenced take, Hoison-glazed Brussels Sprouts from Simple Recipes features a sauce made from rice vinegar, soy sauce, and hoisin sauce. Begin by sautéing sliced onions, then add ginger, garlic, Brussels sprouts, and the sauce. To serve, drizzle with dark sesame oil.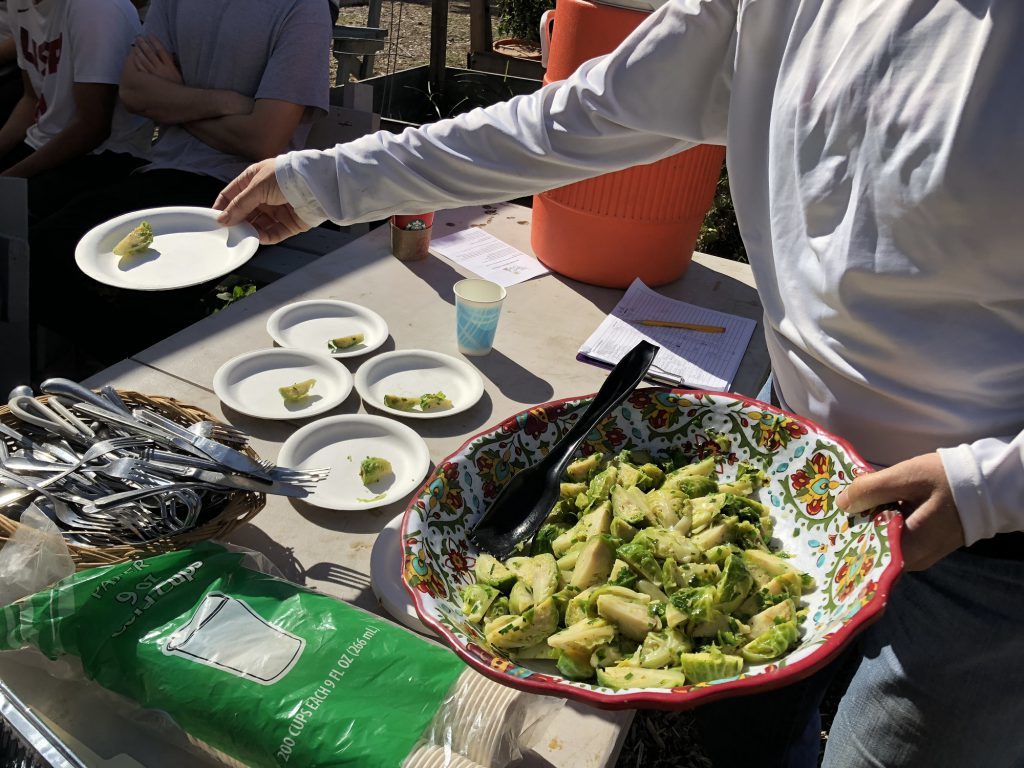 For those who prefer their vegetables raw, Corso suggested Kale and Brussels Sprouts Salad from Nancy Fuller's Farm House Rules. Shred brussels sprouts, kale, garlic, and shallots in a food processor, then toss them with olive oil, toasted pine nuts, grated pecorino, Dijon mustard, salt and pepper, and lemon zest.
Corso and Yliniemi prepared two bonus recipes in case attendees needed an extra option for a holiday vegetable dish: Brussels sprouts and mashed potatoes, and brussels sprouts roasted with olive oil and fennel seeds.
Late fall is the time to plant Brussels sprouts in Southern California. You can take advantage of the many varieties and plant from seed or purchase transplants from the nursery. One thing to watch out for is insects. Aphids, earwigs, and white cabbage moths like to make their homes in between the leaves, and seedlings are particularly vulnerable.
Yliniemi said Brussels sprouts prefer full sun and loamy soil. Fertilizer and removing the grow tip will help encourage leaf development. "Once they start growing tall, you'll notice these little nubs starting to grow. They'll start at the bottom and work their way up," he said.
The cooking classes are open to all LBO members and their guests, although donations are appreciated. Minimum LBO membership is $25 per year, and can be paid at the event. Participants get a taste of each dish and the printed recipes: LBO-COOKS-Brussels-Sprouts-Recipes.pdf