Broccoli and cauliflower are two vegetables increasingly showing up on restaurant menus, be it in cauliflower pizza crust or broccoli cooked on the grill.
At Long Beach Organic's final cooking workshop of the year, chefs Joe Corso and Amanda Aiton demonstrated five recipes for the two vegetables: Buffalo Cauliflower, Cauliflower Fried "Rice," Deviled Cauliflower, Broccoli Stem Slaw, and Broccoli and Tofu in Spicy Peanut Sauce.
"They're two of the same plant family. This is the time to plant them. If this inspires you, go out and get some," Corso said.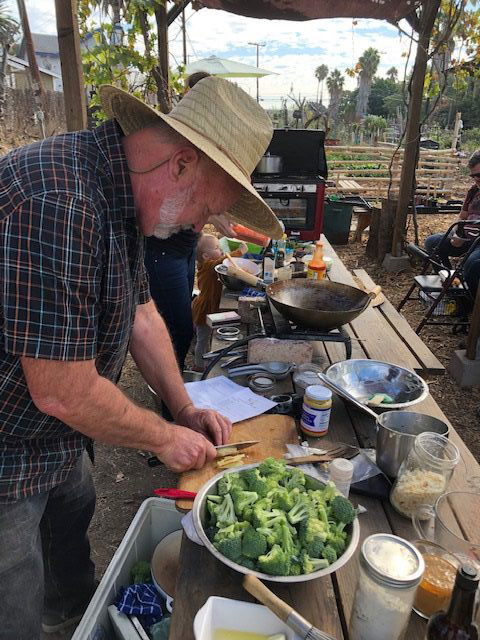 Corso warned against a common beginner's gardening mistake: letting broccoli and cauliflower go to seed. The time between a head of broccoli forming and it flowering can often be as brief as a week, he said.
Paying attention to the size of the bud is more important than watching the size of the head. Once they flower, they'll be inedible, except for the bees feasting on the nectar.
broccoli stem slawMaking slaw is a good use for broccoli stems. The recipe demonstrated calls for 4 large stems, 2 carrots, toasted almonds, and a dressing made from mayonnaise, lemon juice, mustard, vinegar, and salt and pepper to taste.
"Don't be afraid of stems," Corso said, adding that they can also be used for soup.
The buffalo cauliflower can be served as an appetizer with blue cheese dip and celery, and also provide a vegan alternative for Super Bowl.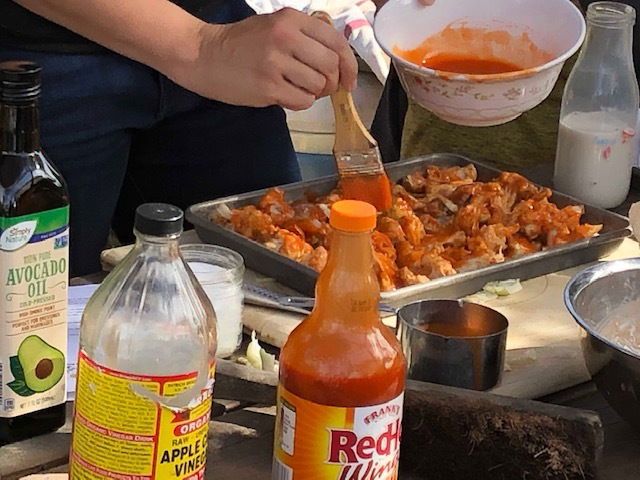 Begin by mixing flour, paprika, garlic powder, salt and pepper, and milk (or milk alternative) to make the batter.
Break the cauliflower into florets then add them to the batter. Bake on a baking sheet for 20 minutes, while making the buffalo sauce mixture from hot sauce, oil, and honey.
The third recipe, Deviled Cauliflower, calls for blanched cauliflower drenched in a bechamel sauce flavored with mustard. Corso pointed out that cheese could be added to the sauce instead of mustard to create a Cauliflower Mornay. Curry powder could also be added.
"The sauce is very versatile. But butter, milk, and flour are very bland unless you season them properly," he cautioned.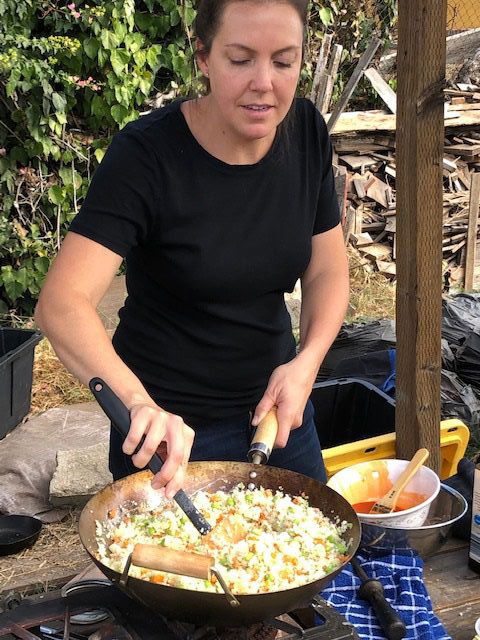 The Cauliflower Fried "Rice" is a guilt-free alternative to carb-heavy rice, and features grates cauliflower, sesame oil, carrot, garlic, edamame, eggs, and soy sauce.
The final recipe, Broccoli and Tofu in Spicy Peanut Sauce, is from "The Enchanted Broccoli Forest" by Mollie Katzen. A peanut sauce is made from peanut butter, hot water, vinegar, soy sauce, molasses, and cayenne pepper. It is added to sauteed broccoli with ginger and garlic, peanuts, and soy sauce.
The cooking classes are open to all LBO members and their guests, although donations are appreciated. Minimum LBO membership is $25 per year, and can be paid at the event. Participants get a taste of each dish and the printed recipes: LBO-COOKS-BROCCOLI-AND-CAULIFLOWER-Recipes.pdf