A staple of summer vegetable gardens, beans are versatile, low calorie, and nutrient rich. At September's LBO Cooks workshop, chefs Joe Corso and Amanda Aiton demonstrated how beans can be used for salads, stir fries, chili, hummus, and even brownies.
If you're preparing green beans, Corso advised how to snap off the ends, strip out the strings beforehand, and cut them on the diagonal for a more appealing appearance. Placing green beans in a bath of ice water after cooking can ensure that they retain their bright green color and don't turn gray.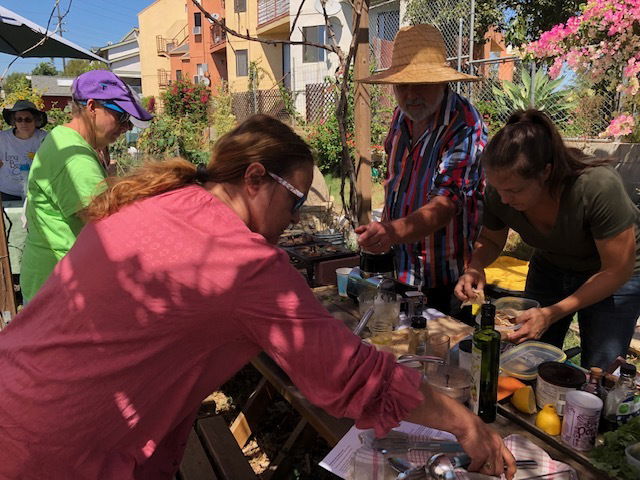 Corso used green beans to prepare a Green Bean and Chickpea Salad from San Francisco personal chef Josephine Araldo's From a Breton Garden. The salad features julienned green beans, olives, green pepper, radishes, scallions, garlic, and herbs, topped with a dressing composed of anchovies, Dijon mustard, olive oil, lemon juice, and nutmeg.
Another recipe uses green beans stir fried with garlic, soy sauce, sesame seeds, brown sugar, peanut butter, and vegetable.
If you're using dried legumes, soaking the beans overnight in water reduces the cooking time.
The vegan white bean chili, from www.vegetarianventures.com, begins with sauteed onion, bell pepper, jalapeno, corn, and garlic, joined by flour, vegetable stock, nut milk, Great Northern beans, and salt and pepper, cumin, and lime. The chili can be garnished with cilantro, avocado, tortilla chips, pickled jalapenos, radish slices, and hot sauce.
Hummus is normally made with chickpeas, but can also be made with other types of beans. At LBO Cooks, Aiton prepared an easy white bean hummus from The Spruce Eats that begins with sauteed garlic. Place the cooked white beans in a food processor along with the garlic, cumin, lemon juice, parsley, salt and pepper, and a pinch of cayenne or paprika.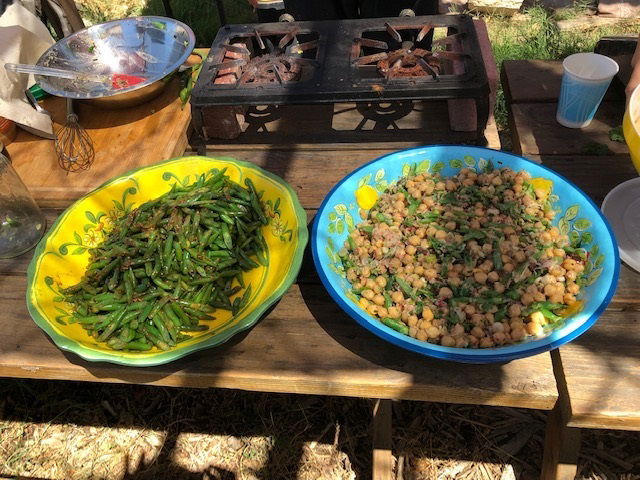 For a finale, she made black bean brownies using a recipe from Katie Higgins. The recipe uses black beans (soaked overnight and cooked), cocoa powder, oats, maple syrup, coconut or vegetable oil, vanilla extract, baking powder, and chocolate chips. The black beans replace the flour and eggs normally used in brownie recipes. Besides being delicious, the black bean brownies are gluten free.
The cooking classes are open to all LBO members and their guests, although donations are appreciated. Minimum LBO membership is $25 per year, and can be paid at the event. Participants get a taste of each dish and the printed recipes: LBO-COOKS-Bean-Recipes.pdf
- Margo McCall