Zaferia Junction Community Garden benches received a fresh coat of paint and the children's area a new planter thanks to volunteers participating in the Belmont Heights Make a Difference Day.
Several families spent a sunny Sunday afternoon working at the garden, which is the largest of Long Beach Organic's seven community gardens throughout the city.
Garden Director Joe Corso said he appreciated the group's contribution. "We are always looking for ways to get children involved in gardening, so this was perfect," he said.
Rebecca Ochoa said this was the second year that she and her daughters participated in Make a Difference Day. Last year, they were part of a dozen community members who sang to residents of a senior living center.
"They had a great time," she said. "But this is fun too. We are pretty excited to be here. We like the idea of growing our own food, and it gives kids an opportunity to experience giving back."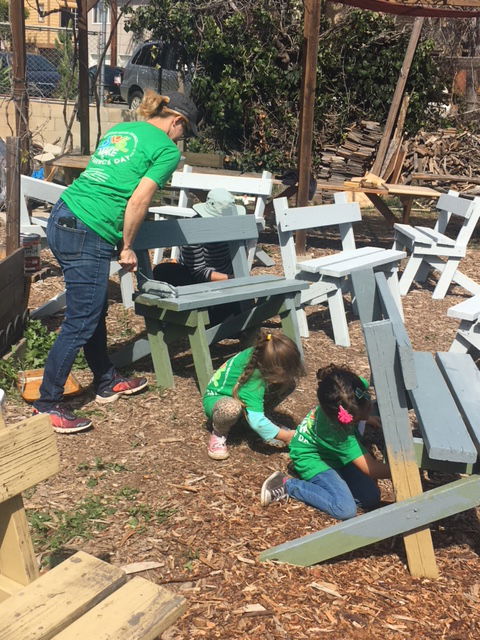 Rebecca Ochoa painting benches with daughters Isabella and GraceHer daughters, Isabella, 7, and Grace, 5, were busy painting benches after sanding them down. "They're working hard," said their mom.
During a break, the Ochoa girls also sampled fresh-picked lettuce and stalks of celery. "I love vegetables!" said Grace.
At the other end of the garden, David Valles, his wife, Roya, and daughters Aliya, 9, and Raina, 6, were constructing a garden box. Aliya and Raina help their dad around the house with projects, so it was no problem for them to saw boards and apply sealer and stain. His daughters also showed their proficiency with a drill—as well as finding a few radishes to harvest.
"I sell software, but I'm also a handyman," said David Valles. "We like to give back to our community."
More than 200 volunteers participated in 19 projects during this year's Belmont Heights Make a Difference Day. Other activities included collecting food for the needy, making PB&Js for the hungry, baking cookies to thank for firefighters, collecting school supplies for homeless kids, making welcome baskets to people who've recently found homes, organizing storage space for the AIDS Food Store, cleaning up heron habitat at the El Dorado Nature Center, and planting trees.
The event partners were 3rd District Councilwoman Suzie Price, Belmont Heights Community Association, Belmont Heights United Methodist Church, Emmanuel Presbyterian Church, Long Beach Islamic Center, Temple Israel Long Beach. For more information, visit http://www.belmontheightsmadd.com/.
-Margo McCall